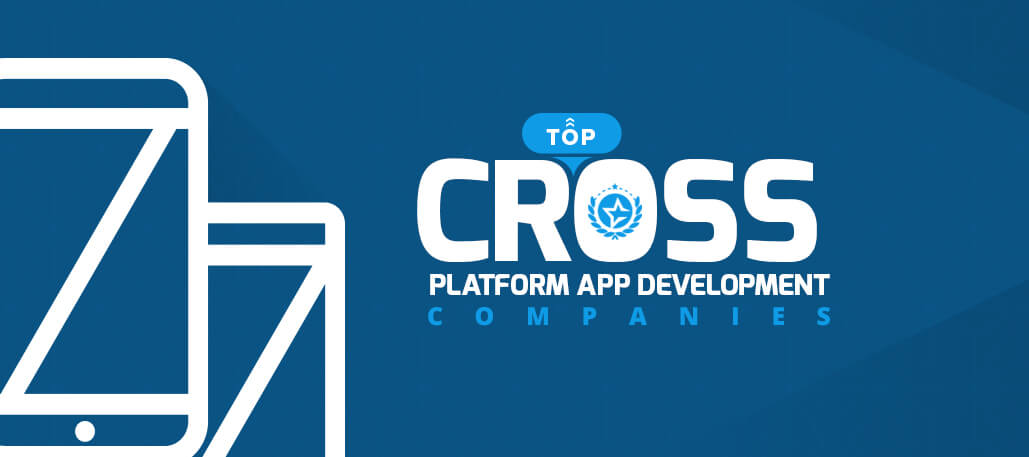 Top Cross Platform App Development Companies & Developers
While every business is sure of having a mobile app now, one of the major confusions they face is whether to focus only on one OS or target the myriad of mobile devices with various operating systems because that can generate higher traffic and more conversions. Of course, as business, you require dealing with different types of customers who own different devices and love switching from one to the other. In this case, you'll have to develop a mobile app that can work seamlessly across platforms and can widen the scope for a high number of downloads. This is where cross-platform app development comes into play. Creating cross-platform native applications is possible today as frameworks like Xamarin, React Native, PhoneGap have revolutionized how hybrid app development was before. There have been appreciable improvements in the UI/UX design of cross-platform apps and they can be very well compared to the native ones. So, if you're thinking of developing a cross-platform app, we've got all the things covered for you. Here's the list of top cross-platform app development companies that you can choose as per your business requirements and budget.
Top Cross Platform App Development Companies & Developers
1. Konstant Infosolutions:
Konstant Infosolutions is a premier software development company, offering a wide range of web and mobile solutions across the globe since 2003. The company has a team of 170+ highly qualified and experienced IT professionals who can deliver best of technology solutions and consulting services across diverse business needs.
Services provided by Konstant Infosolutions:
As a leading software development company, Konstant provides reliable web and mobile solutions spanning across Custom Web Development, UI/UX Design Solutions, E-Commerce Solutions, Database Programming, CMS Development, Native Mobile Apps Development, Cross-Platform Mobile App Development, Enterprise Mobility Solutions and IT Consulting – offering businesses delightfully tailored and trendy solutions in their budget.
2. Softeq:
Softeq is considered as all-in-one solution provider and delivers high quality mobile applications according to client's needs and specifications. Team of professionals and engineers expertise in both hard level and application level which is very rare to be found under one shelter and famous for delivering on and on budget services. Softeq has gained a silver medal in "151-300 Employees" category of the Best IT Companies Awards 2013. Company also has multiple international patents for inventions in the embedded software field.
Services provided by Softeq:
Core Competencies includes high performance web based applications and mobile application development solutions meeting the expectations of client. Provides variety of mobile application solutions including iOS, Android, Windows Phone, BlackBerry platforms, native, hybrid, and cross-platform development. Also they have skilled professionals for Xamarin development, as well as application across all major platforms.
3. Intellectsoft:
Intellectsoft founded in 2007 and is famous for its intelligent software/ mobile solutions. Intellectsoft is a full-service custom software and mobile app development company that has an expensive set of competencies to meet the enterprise needs. Considered as the smart place to begin mobile application development. Offices located in Silicon Valley, New York, London, Oslo and Minsk. Client hire Intellectsoft for its honesty and authenticity through and through. Intellectsoft team has proven experience in developing enterprise solutions which gives them a unique insight for complex mobile app necessities. Because of its experience and expertise, Intellectsoft is also considered as one of the top player in the industry.
Services provided by Intellectsoft:
Services provided by Intellectsoft are Enterprise-Focused and versatile. They deliver agile applications with the purpose of satisfying customer app development needs. Company has delivered more then 300 projects over world wide clients.
4. Affle Appstudioz:
Singapore-HQ mobile application development company and also one of the top players in the industry. AppStudioz is the development wing of Affle MAAS (Mobile Audience as Service) platform, which specialized in UX, design and mobility. They are creative technologists who love to take challenges and great ideas. AppStudioz team has deep expertise in developing cutting edge solutions for different mobile app platfroms including iphone, iPad, android, blackberry and windows phone. One of the prime features in development process at Affle AppStudioz is Affle's Reusable Component (ARC) architecture, that comprises of updated library of features which is being used and accepted by global audiences.
Services provided by Affle AppStudioz:
Affle AppStudioz offer a wide range of advanced mobile app development services including the requirement analysis, design and development with consultation, quality checks and maintenance and support. With the team of more then 2300 well experienced professionals, AppStudioz is specialized in using Agile Scrum methodology in the process of app development that makes app well developed in faster manner.
5. Fingent Technologies:
Fingent has been in the IT software services industry since 2003 and we are a reliable and affordable Web and Mobile Development company for enterprise and mid-sized organizations.
We are a full service web and mobile development services provider with two offices in the United States (Boston and New York), India and United Arab Emirates. Our global team of over 230 talented full-time employees have helped hundreds of mid and large size organizations implement software solutions that increase productivity and profits.
Services provided by Fingent Technologies:
Web Application Development, Mobile Application Development, Product Development (SaaS) and Enterprise Software Development. We will help you solve your business challenges through software in any technology area.
6. TechAhead:
They are known for their perfection & excellence in mobile app development industry. TechAhead provides mobile consulting, design and development services and having world wide clientele and is famous for developing dynamic, interactive, and user-focused mobile applications with skilled team of working professional committed to quality and time. They have their proven track for complex and most critical iOS app development and having 100% success rate in app store approval. Ultimate team of early adapters and developers for high quality android apps.
Services provided by TechAhead:
Key services includes mobile consulting and mobile application development (iPhone, iPad, Android and Windows phone) and web application development and have developed mention-worthy apps for all platforms with updated technologies. They believe in problem solving, user engagement and creating amazing experience.
7. OpenXcell:
Openxcell is also well known name in the market industry. Their knowledgeable team is experienced enough to deliver large scale projects on or before time giving the value for money. OpenXcell has robust, focused and responsive professionals that makes them a preeminent software/ app developer. Since 2008, OpenXcell has developed more then 550 softwares and mobile apps to its wide clientele.
Services provided by OpenXcell:
OpenXcell offer broad spectrum of services that includes enterprise mobile app development ranging from simple business app to complex functionality. OpenXcell deliver its quality mobile solutions to its world wide clients and partners.
8. RapidOps Inc.:
RapidOps Inc. is a Charlotte-based digital solution provider that delivers best-in-class and innovative digital products using cutting edge technology. RapidOps, Inc. develops digital products along with an ultimate user experience for digitally empowered customers. Comprehend with the need of benchmarking digital solutions, the company contributes in delivering relevant services, products, and experiences that help clients thrive in today's digital scenario.
Global customer base embraces Retailers, Health Industrialists, Bankers, Financial Service Providers, Food and Beverages Retailers, Education Sectors, and much more.
Services provided by RapidOps Inc.:
Internet of Things (IoTs), Data Visualization & BI, Web API Development, Hybrid Mobile App Development, Native Mobile App Development including Android App Development, iOS App Development, Web Development Services etc.
9. Sourcebits:
Sourcebits founded in 2006 and ranked in second position because of its innovative business strategy and powerful agile application development. Sourcebits believe in delivering amazing and beautiful user experience. Sourcebits team involves smart and innovative professionals which are much capable to deliver successful applications and hence they have been delivering amazing apps to most innovative brands since 2006.
Services provided by Sourcebits:
Sourcebits has been creating amazing apps for some of innovative brands since 2006 with powerful agile app development services.
10. Fueled:
Fueled founded in 2008 and now ranked in top amongst other players in the app development industry with its outstanding capabilities and world class developers. Fueled team consider itself a strong believers in data-driven approach in terms of an agile application development and analytics-driven approach. Clearly understanding the requirements of clients and delivering them best apps meeting the expectations make them number one among all the players in the industry.
Services provided by Fueled:
Fueled core competency includes designing and developing mobile apps that get featured in app store with diverse skill set of professionals. They understand the needs of the enterprises and provide best solutions that helps in enhancing the business with full service engagement.
More Industry Leaders:
11. Octal Info Solution:
Octal Info Solution is an ISO 9001:2010 certified mobile app development company with 150+ highly skilled professionals offering result-oriented and cost-effective mobile app solutions to SMEs across the world. Octal Info Solution offers wide ranging mobile app development services for diverse business verticals like E-commerce, Health, Education, Finance, Retail, Automobile, Energy, Transportation, Tourism and Manufacturing using most advanced technologies. We at octal info solution make sure quality standards with greater return on investment thus deliver bespoke mobile app solution just according your business requirement.
Services provided by Octal Info Solution:
Octal Info Solution offers a wide array of sophisticated mobile app development services including the requirement analysis, design and development, consultation, quality checks and maintenance and support.
12. Oxagile:
Founded in 2005 and based in New York, Oxagile web developers transform business ideas into great web solutions. They have over a decade experience in building web applications and custom websites using PHP. The Oxagile team has completed and delivered more than 400 projects for multiple industries and business domains. They have a development expertise in PHP for CMS customization and enhancement, social functionality, eCommerce and payment gateway integration and much more.
Services provided by Oxagile:
Together with web development, Oxagile has competence in software testing and QA, mobile app development, custom software development, dedicated development services and support and maintenance.
13. BR Softech:
We are BR Softech Pvt.ltd mobile app development company a organization with 200+ as our global employee strength and offices globally: Canada, Australia USA and India. We are into this business for almost 6+ Years, working with Start-ups, Mid-Size to Large Size companies and providing them with the development support through a unique business model Build Your Team, under which we help them establish a multi-skilled IT Team which will work like your own captive unit – without going through any infrastructure, legal or logistic issues through our development center in jaipur, India and operational center's across USA, Australia and Canada for meet their IT needs like reducing their operation cost and helps them leverage their existing IT investment.
Services provided by BR Softech:
Mobile Application Development – iOS/Android and Cross Platform app development, Enterprise mobility.
Manual Testing – Digital Testing, DevOps & Agile Testing API/Web Services Testing Data Migration Testing.
Open Source – Java, .NET, PHP (all frameworks), Python, ROR.
User Experience Management – Developing intuitive user interfaces and following best practices.
We also have expertise with all major CMS like WordPress, Joomla, Drupal, Magento, x-cart Shopify or prestashop.
14. Simpalm:
Simpalm is a niche mobile app development company based in Washington DC Metro area, serving clients all over USA. Founded in 2009, it has delivered 250+ mobile solutions to its clients. With its unique global shoring and onshore model, Simpalm is able to serve clients ranging from Startups, Enterprises and Government. Our success rate in delivering mobile projects in time and budget is 50% better than the industry standards. Simpalm's team uses its focused approach, experience and knowledge of latest trends in mobile space to create efficient, fast and state of the art applications for its clients. Our team has expertise on iOS SDK, Objective C, Swift, Java, Android Studio, Unity, Titanium, JavaScript, Node JS, HTML, PHP and .Net technology stack. Some of our renowned clients include George Washington University, WindowNation, Redbox, Department of Defense, Booksfree and several other startups.
Services Provided by Simpalm:
App UI/UX design, Web UI/UX design, Native mobile app development, Hybrid mobile app development, cloud backend development, responsive web development, software QA.
15. RapidValue Solutions:
RapidValue is a leading provider of end-to-end mobility, omni-channel, IoT and cloud solutions to enterprises worldwide. Armed with a large team of experts in consulting, UX design, application development, testing along with the experience of delivering global projects, we offer a range of services across various industry verticals. With an unmatched experience of working on 600+ diverse projects with 150+ customers across the globe, RapidValue provides innovative solutions to business challenges of various Fortune 500 / Fortune 1000 firms, multi-national companies and innovative start-ups. We have offices in the US, UK, and India with operations spread across Middle-East, Europe and Canada.
Services Provided by RapidValue Solutions:
Our key services include strategy, consulting, UX/UI design, product engineering, mobile app development, cross-platform app development, enterprise mobility solutions, cloud migration, enterprise integration, testing, support and maintenance.
16. Mobitouch:
mobitouch is a team of software developers and designers passionate about smart communication. They deliver award-winning solutions in various sectors for some of the most powerful brands, including Microsoft, Isobar, MRM//McCANN, OPTeam, Itaka or Hypermedia.
Their knowledgeable team, focused on accomplishing client's objectives, use agile methodology to bring memorable customer experience and add greater value to your business. With mobile mindset at heart, mobitouch is a great partner for both funded startups and enterprises.
Services Provided by Mobitouch:
As one of the leading software development companies in Poland, mobitouch provides full stack development that include Native Mobile App Development, Cross-Platform App Development, Custom Web Development as well as UI/IX Design solutions, CMS Development and many more. They maximize your success by following a tried and true process that involves preparation and concept creation, graphic design, development, quality assurance and improvement.