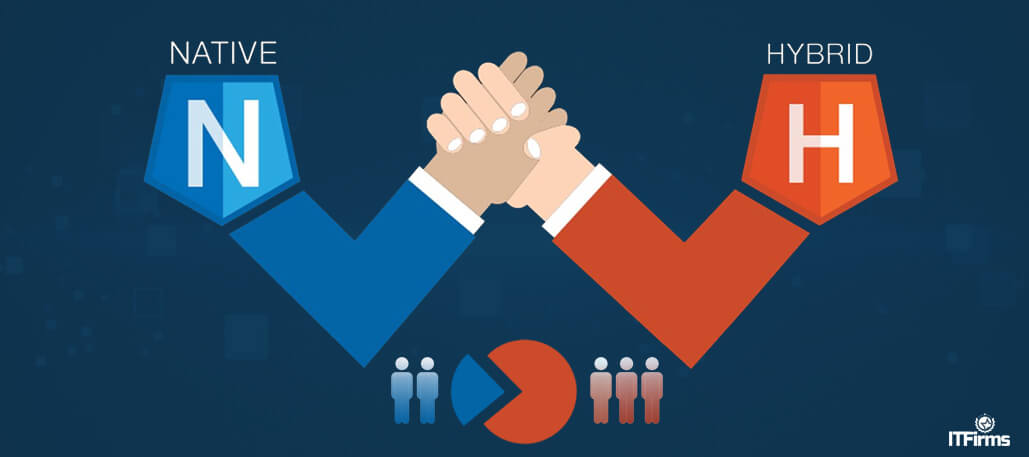 Unparalleled Benefits of Choosing Hybrid Over Native App Development
Hybrid apps are on the rise and here we present you with compelling reasons to consider for your next mobile app development project.
With the idea of building a mobile app for a business comes a quandary, which every entrepreneur or business owner has to deal with. This is the situation where a choice is to be made between a native and a hybrid app.
Business owners like to put out feelers in order to gain insights before putting hands on one. They reach out to the top app development companies for discussing their requirements and detailing their purpose of making a mobile app. After gaining useful information about the project, analysts suggest the most feasible option to move forward.
This is the reason that we are writing this blog post- to make you understand what you gain if you opt for hybrid app development and do not follow a native approach. Before jumping on that part, we'd like you to know what is the difference between a native app and a hybrid app.
Native App:
It is dependent on the operating system and is written in a programming language specific to the operating system they are built for. Java is used to build Android apps while the iOS apps are written in Objective-C or Swift. A native app is superior to a hybrid app, hands down. Performance-wise it is better than a hybrid app, offers high-quality user-experience. If you consider the cost of building a native app, we can't deny but native app development costs you a fortune.
Hybrid App:
A hybrid app runs seamlessly on both Android as well as iOS. It executes inside a web view that is packed within a native app wrapper. It offers native-like experience to the users and gives the liberty of reusing the code to app developers for multiple platforms. Third-party tools like Cordova and PhoneGap are used to build hybrid applications.
Why do you need to opt hybrid app development?
Enriched user experience
Do you know what's the most important factor to grab user's attention in the first place? It is the user experience, and hybrid apps do justice to this factor. The seamless integration of elements makes it facile for users to navigate different screens of the app and be inside the app till the purpose is achieved. Also, this experience is not limited to one or two operating systems or platforms but the entire range of OSes, devices, platforms and screen sizes.
MVP development is quick
When building a mobile app what do the top app developers do? They build an MVP first, evaluate if it's feasible for the market, gain feedback from users and act accordingly to produce the fully-loaded app. Building a prototype with hybrid frameworks is easy and quick.
Door of scalability is always open
Already having the advantage of targeting users on different platforms, hybrid apps can be scaled at any moment of time. The code is re-usable that do not require app developers to write it from scratch- saving a lot of valuable time and effort. With hybrid app development, your app is available to the entire society rather than a section as in case of a native application.
App maintenance is easy
The task of app developers doesn't end after delivering the app to the client. Mobile app maintenance kicks off from there. You got to be on toes ensuring the app performs in the desired manner, complies with new OS updates and stuff likewise. In case of hybrid apps, taking note of the quality of the app is easy as compared to a native app. All you have to deal with is one framework to cater multiple platforms like Android, iOS, Windows and more.
Sublime integration and data exchange
Synchronization of native OS applications like camera, messaging, GPS and more with the app being built is sublime. The hybrid app development frameworks do this for you. They get the fusion right in minutes and you, as an app developer, can sit back and focus on more important things.
Final words
Moving to hybrid isn't lengthy or troublesome rather it can all be done in just a few hours. Plus, as a developer, you do not have to gain extra knowledge to get started with cross-platform app development frameworks. A few tutorials on the syntax and a walkthrough video can get you going.
The world is getting smart, mobile devices are getting smarter and what about you? Take a smarter way and build smart hybrid applications for your business.