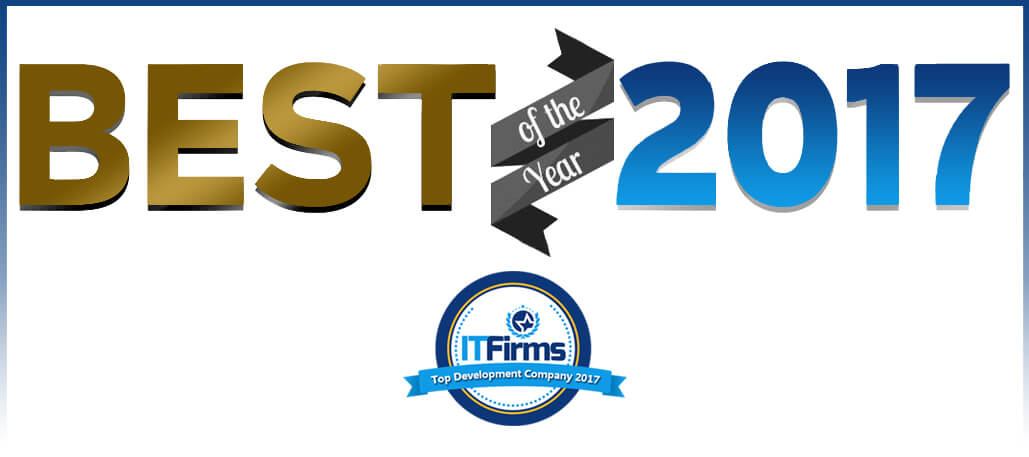 ITFirms.co Announces the Top Development Companies for the Year 2017
ITFirms.co provides a full list of the top-notch development companies in various categories and subcategories for 2017. These lists will provide the most sought-after route for businesses and enterprises to take in the year 2018.
New York/Press Release: As the year comes to the end, ITFirms.co summarizes 2017 with its exclusive leaders' matrix including world's top-performing mobile app development, web development and eCommerce development companies. The lists would prove to be big decision makers for all those startups, mid-level enterprises, global brands and entrepreneurs who are willing to launch or revamp their business website, web app, online stores or mobile app in the year 2018.
Looking at companies of all sizes across the globe, ITFirms.co presents the most refined and authentic results. Each development firm goes through a rigorous evaluation process where they are ranked based on the quality of projects delivered, adherence to client's requirements, budget and time limitation, client satisfaction and retention rate, number of projects delivered, flexible engagement models, inclusion of latest technologies, agile methodology, consistency, commitment and dedication.
Four most important parameters that the research and ranking firm consider a top priority during evaluation are innovation, strategy, reliability and expertise. ITFirms.co makes sure that all the companies they include in their lists score high on these four. The researchers at Itfirms.co say, "If an app development agency is not keeping abreast with the latest technologies and trends, it's not worth hiring. For app developers to deliver the best results in today's time, they should be experts in IoT, wearable app development, on-demand solutions and AR/VR."
Some of the best mobile app development companies ranked by ITFirms.co are: Konstant Infosolutions, Dom & Tom, WillowTree, Fueled, Intellectsoft, Y Media Labs, Appster, Softeq, LeewayHertz, Ready4S. Interestingly, some of them hold a top place in all the ranking lists.
Covering the diverse domains in the industry, here're the top 5 names from each of the categories that ITFirms have included in their ranking lists.
Top mobile app development companies in India:
Konstant Infosolutions, Appster, QBurst, AppInventiv, TechAhead
Top mobile app development companies in the UK:
Konstant Infosolutions, Ready4S, Intellectsoft, Fueled, Cleveroad
Top Android app development companies:
Konstant Infosolutions, Intellectsoft, Dom & tom, WillowTree, Fueled
Top iPhone app development companies:
Y Media Labs, Konstant Infosolutions, WillowTree, Sourcebits, Dom & Tom
Top web development companies and web developers: Konstant Infosolutions, WillowTree, Jordan Crown, IT Craft, Hidden Brains, Big Drop Inc, NMG Technologies, Intellectsoft, Iflexion, Itransition
Top AngularJS development companies and developers: VironIT, Hidden Brains, SumatoSoft, Matellio, Clavax Technologies
Top Php development companies and developers: Konstant Infosolutions, Hidden Brains, Jordan Crown, Iflexion, Heads and Hands
Top eCommerce development companies and developers: Commerce Pundit, Konstant Infosolutions, Dotcomeweavers, NMG Technologies, Session digital
To provide deeper insights into the top developers in the various regions across Asia, USA, Europe, UK, ITFirms releases individual ranking lists for the subcategories including Android and iOS app developers for mobile, WordPress, PHP, AngularJS, Joomla, Java (Upcoming), React Native (Upcoming) and NativeScript (Upcoming) for web development and Magento web development for eCommerce development companies.
Only the highly recommended and most trusted companies in the industry are listed in the ITFirms.co rankings. You can check out the category-wise full lists for the year 2017 here https://www.itfirms.co/
About ITFirms.co
ITFirms.co is a globally recognized, independent research and review firm that ranks the top development companies to help businesses, enterprises and startups in hiring the best development partner as per their online business requirements. By collecting data and reviews on hundreds of tech companies across the globe, ITFirms.co solves a two-way problem- where buyers of professional, IT services find the finest companies to meet a specific requirement and conversely, leading software and services agencies stand out from a multitude of run-of-the-mill developers.