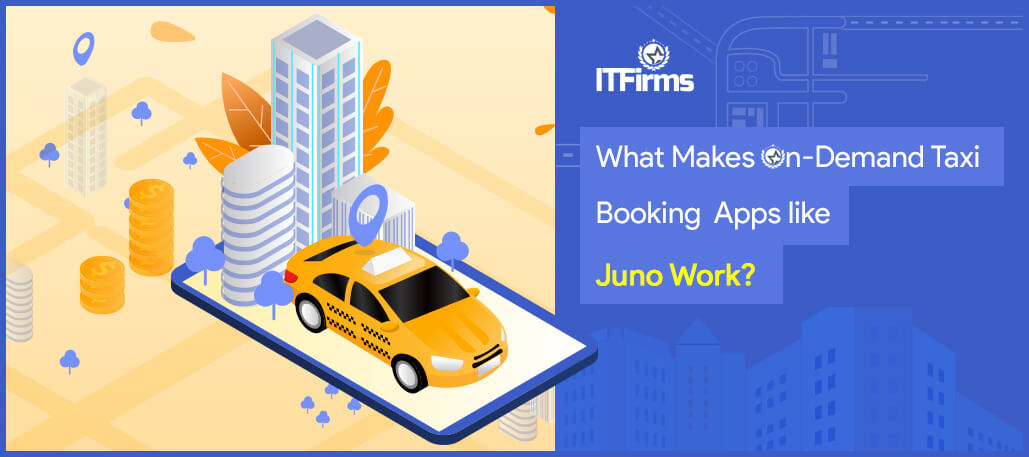 What Makes On-Demand Taxi Booking Apps Like Juno Work?
This space describes the finest strategies applied for ride-hailing app development by taxi booking apps like Juno!
We often find that our inconsiderate actions fail. Therefore, planning and estimating are as much important as having knowledge about something and actually doing it. Keeping this in view, in this context, there are a few things that must be considered before booking a taxi online:
(1) Price of the cab service must be compared with the price of other similar car hire services,
(2) Driver's license must be checked beforehand,
(3) The vehicle must be inspected before the ride and
(4) The reviews of the online taxi booking app service must be verified.
Why cabs are preferred?
Leaving the public and private means of transport, Taxi's range somewhere in the middle, making the commute convenient, preventing the tussles of public transport and incurring the cost of having a private transport. These are as well useful in case users have to travel to unknown routes, do not wish to drive or in case they are not aware of how to drive.
Taxi booking apps like Uber and Juno has been the de-facto of on-demand services. It is a GPS enabled metered radio taxi service that is flexible with its rates, offers a wide array of features like maps and locations, in-app payments, dispatch and tracking panel, plus few more features. Taxi app development companies have unified a lot of features with cab booking services, much to the delight of the customers.
Features to Consider in Taxi Booking App like Uber
Mobile app development companies need to consider some important features before building taxi booking like:
(1) The built-in options to collect fees from the drivers,
(2) Selection of vehicle,
(3) Smart analytic system,
(4) Profiles,
(5) Push notifications,
(6) Tracking trip history,
(7) Navigation,
(8) Fare calculation and
(9) Generating reports/invoices.
Benefits of Juno Rideshare App
These cab booking applications are one of the premier on-demand solutions to real-time problems related to commuting within or outside the city, saving all the way along to hunt for a taxi.
These cabs are GPS enabled, metered radio taxi service with clear pricing that makes all the rides reliable.
These often include peer-to-peer ridesharing, ride-service hailing, food delivery, and a bicycle-sharing system and are available at all times.
Payments always support the great customer experience, therefore ride-sharing companies like Juno are innovative and constantly push the boundaries of their infrastructure — including payment gateways — to expand into new markets, geographies, and business lines.
With share passes, discounts, offers, coupons, etc., these provide AC cabs at lowest fares, matches best routes and reduces the carbon footprint. These cabs work under 24×7 strict vigilance from the control center.
Customized On-Demand Cab Booking App Solutions
Juno ridesharing implements technologically advanced and commercially feasible solutions for cab booking services. Subdomains include
(1) Private taxi hire service,
(2) Car-pooling, and
(3) Rental service and startup and enterprise service.
Primary Features in Juno Taxi App
(Major ones – Mandatory)
Sign Up/Sign In
Finding Nearby Taxies on Map
Set Delivery Location (Adjusting current source and destination)
Send Ride Request
Live Tracking for Ride
In-App Payments
Ratings & Reviews
Transaction History
Push Notifications
Modules in Taxi Booking Mobile App
A normal taxi-booking app consists of three modules: Passenger App, Driver App, and Admin App.
Admin Panel
This helps to manage all the activities within the taxi-booking app. It must be well organized for real-time vehicle tracking, efficient monitoring, and resource management. It includes management of all ride statistics, payroll and managing app interface, user requests, payments, tracking, and feedbacks. Main sections within the panel include:
Taxi booking apps for iPhone makes use of:
The core location framework.
Mapkit for suggesting the shortest possible routes and directions.
Use of ibeacon and wi-fi for tracking location from GPS.
Android Juno cab app makes use of:
Google Service API that is used for tracking.
These are capable of handling all types of requests from routes to directions to navigations. Users can as well make use of OpenStreetMap API.
Passenger Panel
It is a user-friendly interface for the cab users to book taxis, calculate fares and e-wallet management options. Main sections within the panel include:
Sign Up/Sign In
Home Screen
Driver Rating
Ride History
Payment
Push Notifications and messages
Real-Time Map Plotting
Schedule Ride
Driver Panel
It is used for managing trips, daily reports, booking alerts, messaging, push notifications, help and driver referrals. Main sections within the panel include:
Driver Status and profile
Navigation
Ride Alert
Reports/invoice (for calculating total earnings in a day)
At Long Last
App development companies India are in the process of implementing their business skills in the precise direction, and simultaneously gearing up operational competence. They have streamlined on-demand app solution to take care of the complete process of taxi booking and dispatch. So if it seems good to be lost in the right direction, mobile app development companies who wish to create an Android or iOS app for starting a transportation/taxi business must:
(1) Target users/market (potential),
(2) Implement driver-friendly ride-hailing services,
(3) Efficiently embrace advanced ride-hailing features like affordable private rides,
(4) Estimate costs,
(5) 24×7 customer support,
(6) Include reviews from clients,
(7) Exceed expectations and
(8) Validate the idea of commuting with convenience.
To start with, find out Indian app developers cost and discuss the cost of making an app like Uber or Juno. This will also be helpful in making money with the app eventually.